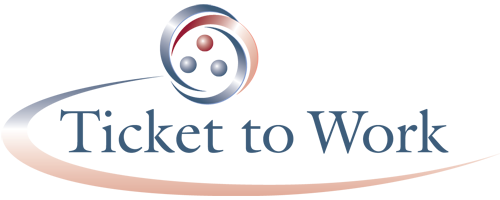 So, what is the Ticket to Work program?
Ticket to Work is a program through the Social Security Administration available to most individuals receiving Social Security disability benefits, with most individuals becoming eligible for the Ticket to Work program as soon as they begin receiving SSDI or SSI disability benefits. Ticket to Work is designed to give these individuals more employment service choices than simply 'going it alone' or utilizing state VR. Additionally, many EN's provide services and supports that VR agencies simply cannot provide, or, can provide direct employment to the Ticketholder.
Ticketholders use their tickets by 'redeeming' them with an Employment Network to obtain employment services, vocational rehabilitation services, or other services necessary to achieve their vocational goal. An EN, upon Ticket assignment, will coordinate and provide services to help the Ticketholder find and maintain employment.
How do I know if I have a Ticket?
All individuals, aged 18-64, who receive SSDI and/or SSI because of their disability are eligible to participate in the Ticket to Work program. If you are unsure, you can self-check your eligibility by calling the Ticket to Work Help Line at 1-866-968-7842. Or, alternatively, feel free to contact us, or any EN, and we would be happy to check with a Ticket Program Manager to verify your eligibility.
Who is a Good Fit for the Ticket to Work program?
The Ticket to Work program, as noted on the SSA's website, is "a good fit for people who want to improve their earning potential and are committed to preparing for long-term success in the workforce." Or, in short, a successful Ticketholder is one who is committed to taking the steps necessary to improving their income while maintaining their benefits and transitioning into the workplace.
How do I use my Ticket?
First, proper thought and self-reflection should be put in to determining your goals for the usage of your ticket. This will help narrow your focus for Employment Networks, as there are many different Employment Networks, with many different specialties. Therefore, it is important to know your own goals and then spending time properly researching each organization, their unique characteristics, and how they can assist you in achieving your goals. If you need assistance in locating Employment Networks, SSA has created the Find Help tool, which you can access on their website by clicking here.
To assist Ticketholders in reviewing and comparing Employment Networks and ensuring the goals of the Network meet the goals of the Ticketholder, SSA has created a worksheet to utilize. The worksheet assists ticketholders in determining their goals and connecting these to how the employment network being reviewed can assist in achieving these. This worksheet can be downloaded directly from the Choose Work / SSA website by clicking here.
Upon selecting a network to discuss your case with, Ticketholders are encouraged to contact the Employment Networks directly. Speak with a specialist, who can get to know your case, and build a rapport. It is important that both you and the prospective Employment Network feel comfortable working together. From there, you will jointly develop a plan that will assist in achieving your employment goal, as well as outlining the services and supports the EN will provide to assist you in achieving that goal. Once this document has been drafted, signed by both parties and approved by the SSA, your Ticket is assigned.
Why Should I Use My Ticket?
Why not? EN services are free, voluntary, and can assist in providing supports designed to assist you in reaching your employment goals. EN's can provide supports and assistance throughout the job seeking and employment process. Some examples include resume development, job coaching, career exploration, mock interviews, job lead assistance, job retention and advancing in your new career. Additionally, EN's can assist those already working with transitioning to a new career, either through assisted job search or training guidance.
Furthermore, and dependent on circumstances, many Ticketholders work while still maintaining their benefits. Additionally, while participating in the Ticket to Work program and making progress on achieving goals, SSA will waive your Continuing Disability Reviews.
What if my goals change? Can I change Employment Networks to one that better suits my present goals?
Should you find your EN is not meeting your expectations, or perhaps your goals change and they are not the best EN suited to meet them, the Ticketholder can certainly change their EN. SSA provides a Ticket Un-assignment Form, which can be accessed by clicking here.
Naturally, unassigning an EN is a decision you should consider very carefully, as well as notify the EN of your intent directly.
Of note, if the Ticket is not re-assigned within 90 days, it is possible the Ticketholder will lose their Continuing Disability Review protection.
Previously, I have worked with State VR and am no longer doing so. Am I still eligible to participate with another EN?
This is a bit of a tricky question and is best reviewed on an individual case by case basis. Please feel free to contact us, or any EN, to discuss your file and see if transitioning your services is possible.