The Importance of the Initial Vocational Evaluation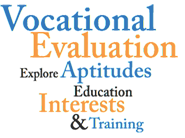 Why conduct an Initial Vocational Evaluation?  An Initial Vocational Evaluation can be used for various purposes and may differ according to the specific requests of the referring source.  It is typically used to determine an individual's employment potential, as well as the extent and expense of vocational and/or training/educational services that would be necessary for a successful return to work.  An effective Initial Vocational Evaluation should assist the referring source in making realistic file decisions with reference to the expanded use of additional vocational case management services that would ultimately bring about a successful resolution to the file.
With that said, how is an effective Initial Vocational Evaluation constructed?
Initially, all available medical and vocational information including, but not limited to, doctor releases, functional capacity evaluation, employment application, job description and the records of previous rehabilitation service providers are reviewed for the purpose of determining if an Initial Vocational Evaluation is warranted.
If an Initial Vocational Evaluation is deemed appropriate, a comprehensive interview is conducted to obtain the individual's work history, personal history, education, perception of available physical capacities, skills, knowledge, experience, training and psycho-social information.
This combined information is then compiled, reviewed, and evaluated to produce the Initial Vocational Evaluation Report. It is anticipated, following receipt and review of all necessary information, conducting the comprehensive interview and, completion of the Initial Vocational Evaluation, a report and recommendations should be forwarded to the referring source within 21 days.
The Initial Vocational Evaluation Report should include objective and realistic recommendations with reference to an individual's potential for return to work and what services would be required to attain that goal.  Such services could include, but are not limited to, short-term training/education, such as English as a second language, securing a General Equivalency Diploma, introduction to keyboarding or computer class, involvement in a vocational workshop which would facilitate and expedite a successful return to work.
If, after completion of the Initial Vocational Evaluation, the individual is not referred for vocational placement services, the Initial Vocational Evaluation Report can be used to facilitate equitable resolution by utilizing objective information and opinions which allow for a sound and realistic mediation by all parties.
In closing, Initial Vocational Evaluations should not be considered solely as a component of job placement.  An Initial Vocational Evaluation is a relatively inexpensive means to determine the realistic employability of an individual.